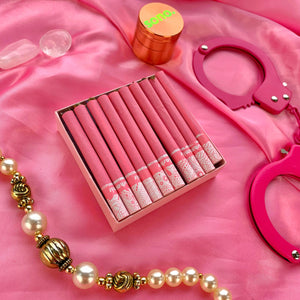 PINK Edition Have a Fun Time | Aphrodisiac Herbal Smokes | Pink Wraps | Exclusive Limited Time Release
Regular price
$18.35
Sale price
$20.00
Unit price
per
Get in the mood this spring  with the sensual herbal blend from Sono. We made these with a special pink wrap so your smokes can be on theme with the holiday. This blend contains herbs known for being aphrodisiacs with calming and euphoric properties. Perfect for smoking before an intimate time with yourself or with partners, soothing and serene.
This product contains no tobacco/nicotine, no THC/CBD, and no additives, only 100% organic herbs.
Product Information:
- 10 Organic Herbal Smokes. Herbal smokes are also sometimes known as Herbal Cigarettes, Herbs & Flowers Prerolls, Herb Tokes, Herb-Based Spliffs, but rest assured that whatever you call them, this mixture contains ZERO cannabis or tobacco.
- Rolled in king-size pink wrapping papers
- Biodegradable filters
- Approximate weight - 1 gram per preroll 
- Option of cigarette style or pre roll style
Organic Ingredients:
Turnera diffusa (Damiana) - used traditionally to treat headaches and aid depression, known tobacco substitute.
Rosa (Rose) - grounding flower with a warm, delicious taste, for boosting mood and soothing.
Nepeta cataria (Catnip) - to soothe, induce gentle euphoria, and even help with cramps sometimes.
Lavandula angustifolia (Lavender) - the purple flower with one of the most recognized scents in the world, this aromatic flower and spice is also commonly used in smoking blends as a flavoring with soothing effects. 
Nymphaea caerulea (Blue Lotus) - to promote sex drive and passion, and reduce stress. Used traditionally in many cultures, dating back at least as far back as Ancient Egypt.

Crocus sativus (Saffron) - a warm, vibrant-red flower vital in to improve mood and refresh the body, aids depression.
Please check out our FAQ page for details on our shipping process and company policies. Read about our pricing here. 
Were you looking for this herbal mix as a loose smoking blend? Click here.
You must be of legal smoking age to purchase this product. Your purchase validates your agreement to the Sono Terms of Service. This product in no way guarantees any specific outcome. Any information related to herbal properties references historical, traditional, mythical, or ceremonial usages in folk medicine or spiritual practices. This information is provided for entertainment purposes only. 
This product hasn't been evaluated by the FDA. It is not intended to diagnose, cure or prevent any disease. Consult your doctor before use. Do not use if you are pregnant or nursing. Smoking anything may be hazardous to your health.
---