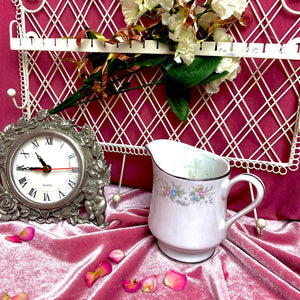 Prim & Proper Massage Candle | Sandalwood & Vanilla Scent | Natural Soy, Shea, Almond
Regular price
$21.95
Sale price
$49.95
Unit price
per
Soy wax, cocoa butter, shea butter, sweet almond oil & rich fragrance oils of vanilla & sandalwood - that's all that's in these simply made, hand poured massage candles. After blending the ingredients into a fragrant mixture, they are poured into a unique pitcher for easy pouring.
Precaution:
Not suitable for anyone with nut allergies. Intended for external use only. As this contains an oil-based mixture, it will cause condoms to degrade, increasing risk of failure. Blow flame out before pouring wax mixture, and always make sure you're familiar with candle safety tips before lighting.
The massage oil this candle leaves pooling beneath its flame is made with natural wax, butters, and oil. We recommend burning for 10 minutes or enough time to allow the pool of melting wax to expand to the edges of the container, ensuring an evenly burning candle through multiple uses. While you wait for the candle to melt, you and anyone you're with can enjoy the seductive atmosphere of vanilla and sandalwood filling the room, emanating from the simmering candle before you. Once some wax has melted, blow the flame out, and hold the candle by the handle to pour the mixture from the spout. As this candle has a low melting point, the melted mixture should be cool enough to apply to skin immediately after blowing out the flame.
After spreading, kneading, and massaging that oil from the poured candle, you can let it sit, allowing your skin to absorb it for an hour before washing it off. The mixture of butters and oils are hydrating for your skin, working to soften and improve its elasticity. Sweet almond oil is an antioxidant and an anti-inflammatory, giving the mixture a lovely soothing touch. The shea butter is also rich in fatty acids, helping with the hydrating action as its high level vitamins absorb topically. And to top things off, the soy wax is soft and creamy in your hands even before it's mixed with the butters and oils, it's an antioxidant that's rich in vitamin E, which helps to soften skin and lock in moisture.
Product Information:
One massage candle containing a blend of Soy wax, 
s
hea butter, and sweet almond oil, containing sandalwood and vanilla fragrance oils. It's hand poured in a pitcher with a spout for easy pouring, because the melted wax is intended to be used as a massage oil! Make sure to blow the flame out of the cotton wick before pouring.
Please check out our FAQ page for details on our shipping process and company policies.
---