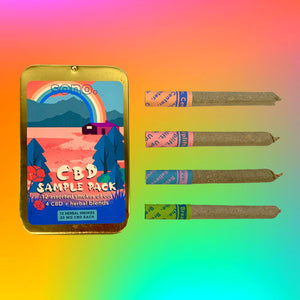 CBD Sample Pack | 12-Pack Herbal Hemp Smokes | 4 Blends to Sample
Regular price
$31.85
Sale price
$35.95
Unit price
per
Every day brings different moods, and different reasons to reach for a smoke. With our new CBD Sample Pack, you can have a choice between the four original Sono herbal hemp smoke blends, each with a specific intention. Pick out a hemp cigarette, and you'll notice the filters in these packs are wrapped with the name of the blend, so you always know what you're smoking. This is a perfect way to find your new go-to smoke from the shop, and to try out the benefits of traditional herbalism and organic hemp.


Product Information:
- 12 organic herbal hemp cigarettes
- Packaged in a reusable metal tin
- Rolled in unbleached plant fiber paper
- Biodegradable filters
- Approximate weight - 0.7 gram per preroll
- 20 mg CBD in each preroll
- Handmade and eco-friendly

Blends Included:
Breathe - A simple blend made to be an easy, comfortable smoke, with intention to encourage grounding, balance and peace.

Center - A meditative blend crafted to help unwind, encourage introspection, and connection with your higher self.
Relieve - A soothing blend, crafted to be a comfort in troubling times.
Uplift - Heart-opening blend designed to release negativity, inspire peace and creativity.
To read certificates of analysis for the hemp & CBD we use in our products, click here. Please check out our FAQ page for more information on our products, and our company policies.
You must be of legal smoking age to purchase this product. Your purchase validates your agreement to the Sono Terms of Service. This product in no way guarantees any specific outcome. Any information related to herbal properties references historical, traditional, mythical, or ceremonial usages in folk medicine or spiritual practices. This information is provided for entertainment purposes only. 
This product hasn't been evaluated by the FDA. It is not intended to diagnose, cure or prevent any disease. Consult your doctor before use. Do not use if you are pregnant or nursing. Smoking anything may be hazardous to your health.
---