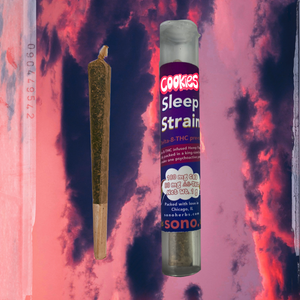 Cookies Delta 8 Preroll | 1g Delta 8 THC Hemp | Indica Sleep Strain
Regular price
$17.55
$0.00
Unit price
per
Why roll your own hemp, when you can grab a delicious preroll from Sono! A way to try cannabis hemp flower in a beautiful form - a finely rolled J, available in our sleepy indica strain, Cookies. It's packed with
180 mg CBD and 80 mg of 
△8 THC per preroll, Cookies has a sweet taste that you're sure to love
. This is full spectrum hemp with tasty and unique terpene profiles, and a powerful mix of cannabinoids to deliver the maximum entourage effect when smoked.
This preroll is wonderful for a tasty addition to your smoke sesh, or the nightcap before you hit the pillow. Psychoactive, effective and potent, with
180 mg CBD and 80 mg of 
△8 THC
in a single preroll - this is how dreams are made.
Read more about  CBD,
 and the plant it comes from in
 our 
CBD blog post
.
Product Information:
- 1 hemp preroll packed in a RAW Cone
- Less than 0.3% THC so that it's 2018 Farm Bill Compliant
Caution:
With any product containing Delta 8 THC, we strongly advise that you use with caution especially when you are unfamiliar with your reaction to psychoactive substances, or trying Delta 8 THC products for the first time. Start by testing small amounts to see your reaction to the compound, and wait for 30 minutes before increasing your dose. Delta 8 THC is not as powerful in effect as the psychoactive component of recreational off-market weed, Delta 9 THC, but it does create a mild psychotropic effect, and this should be taken into consideration before consumption.
To read certificates of analysis for the hemp & CBD we use in our products, click here. Please check out our FAQ page for more information on our products, and our company policies.
You must be of legal smoking age to purchase this product. Your purchase validates your agreement to the Sono Terms of Service. This product in no way guarantees any specific outcome. Any information related to herbal properties references historical, traditional, mythical, or ceremonial usages in folk medicine or spiritual practices. This information is provided for entertainment purposes only. 
This product hasn't been evaluated by the FDA. It is not intended to diagnose, cure or prevent any disease. Consult your doctor before use. Do not use if you are pregnant or nursing. Smoking anything may be hazardous to your health.
---