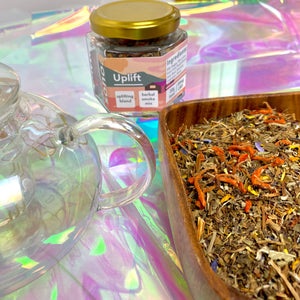 Uplift | 20g Hemp & Herbs Blend | Uplifting Mood Mix
Regular price
$43.95
$0.00
Unit price
per
Uplift is a heart-opening blend crafted to release negativity, help you tap into inner sources of peace, and inspire creativity. These are things we often look to cannabis for, but our organic hemp is high in CBD content, delivering the smoke session you want without sacrificing any clarity. The herbs in this blend were picked using knowledge of traditional herbalism to be soothing, with a lovely taste.
Product Information:
- 20 grams of Uplift hemp and herbal blend
- Packaged in a reusable glass hexagon jar (4 oz. size) with metal screw top lid
- 80 mg CBD of our Bubba Kush
- Hand packed and eco-friendly
Organic Ingredients:
Hemp - crafted with a favorite hemp strain, Bubba Kush, a creative sativa that makes for an excellent substitute for cannabis or tobacco cigarettes. Read more about hemp here.
Klip Dagga - to induce gentle euphoria and an uplifted mood
Blue Lotus - a flower capable of enhancing the mood, inducing euphoria, and acting as a calming sedative. Smoking this may lead to lucid dreaming.
Gotu Kola - lifts the mood, and relieves stress, a perfect herb for gathering focus, and improving cognitive function.
Passionflower - an essential nervine herb that calms and relieves stress
Holy Basil - an herb that boosts cognitive function even as it helps support the body in managing physical stress symptoms 
Damiana - revered for its qualities as an antidepressant and aphrodisiac
Calendula - a soothing anti inflammatory herb, known as uplifting 
To read certificates of analysis for the hemp & CBD we use in our products, click here. Please check out our FAQ page for more information on our products, and our company policies.
You must be of legal smoking age to purchase this product. Your purchase validates your agreement to the Sono Terms of Service. This product in no way guarantees any specific outcome. Any information related to herbal properties references historical, traditional, mythical, or ceremonial usages in folk medicine or spiritual practices. This information is provided for entertainment purposes only. 
This product hasn't been evaluated by the FDA. It is not intended to diagnose, cure or prevent any disease. Consult your doctor before use. Do not use if you are pregnant or nursing. Smoking anything may be hazardous to your health.
---