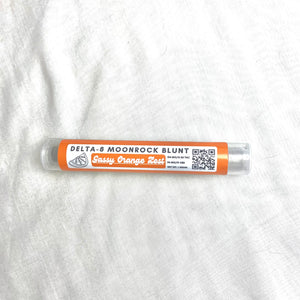 Sassy Orange Zest Blunt | 1g Delta 8 THC Moon Rocks Hemp | Sativa Strain
Regular price
$20.00
$0.00
Unit price
per
When was the last time you had a nice blun? Let alone a Delta 8 Moon Rocks blunt, an extremely potent gram of hemp bundled in a king palm leaf wrap, and loaded with psychoactive properties derived from the sativa strain that's stuffed inside. It's sassy orange zest - and you might not be ready for this, so puff slow. It's one potent blunt, and it comes packed in individual tubes for you to safely transport, pop open, and enjoy on the go.
Product Information:
DELTA 8 THC MOON ROCKS BLUNTS contain 1 gram (310 MG) of premium Delta 8 THC Infused Industrial Hemp Moon Rocks filled in a king palm leaf wrap.  No tobacco, synthetics or additives are in the hemp blunt wraps.
DELTA 8 Sassy Orange Zest Flower Strain Information:
Type:  Sativa dominant hybrid
Lineage:  Clementine x Green Gas
Aroma:  Orange, Earthy
Effect:  Energy, creative, focus.
Cannabinoid Profile & Potency levels:
9.63% CBD
31.46% Delta-8 THC
0.206% Total THC (Legal limit is 0.3%)
Safety Tests:
Pesticides - PASS
Microbials - PASS
Mycotoxins - PASS
Heavy Metals - PASS
Foreign Matter - PASS
Packaging Information:
Delta 8 Moon Rocks Blunts are packaged in a 120 MM clear plastic tube that is then placed in bubble wrap pouches and inserted into the appropriate mailer, envelope or box.
Information provided by hemp supplier.
Caution:
With any product containing Delta 8 THC, we strongly advise that you use with caution especially when you are unfamiliar with your reaction to psychoactive substances, or trying Delta 8 THC products for the first time. Start by testing small amounts to see your reaction to the compound, and wait for 30 minutes before increasing your dose. Delta 8 THC is not as powerful in effect as the psychoactive component of recreational off-market weed, Delta 9 THC, but it does create a mild psychotropic effect, and this should be taken into consideration before consumption.
To read certificates of analysis for the hemp & CBD we use in our products, click here. Please check out our FAQ page for more information on our products, and our company policies.
You must be of legal smoking age to purchase this product. Your purchase validates your agreement to the Sono Terms of Service. This product in no way guarantees any specific outcome. Any information related to herbal properties references historical, traditional, mythical, or ceremonial usages in folk medicine or spiritual practices. This information is provided for entertainment purposes only. 
This product hasn't been evaluated by the FDA. It is not intended to diagnose, cure or prevent any disease. Consult your doctor before use. Do not use if you are pregnant or nursing. Smoking anything may be hazardous to your health.
---