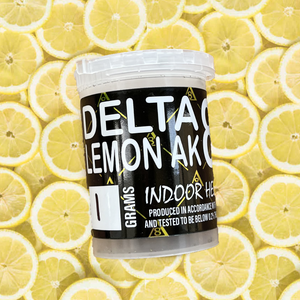 Delta8 Flower | 1G | Lemon AK | 210 MG CBD + 160 MG D8
Regular price
$17.15
Sale price
$18.88
Unit price
per
Lemon AK is one of our favorite strains. As soon as you pop open this jar, you'll know where it got its name. The lemon aroma is refreshing, and this sativa hemp is the perfect wake-and-bake strain. This bud is bursting with energy, and a few tokes always has me feeling creative. This is a big-ideas strain, ideal for both morning smoke sessions, and bud breaks at any time of day.
Delta 8 THC is taking the world by storm - being hemp derived, it's as legal as CBD products are in the US, but it bears striking similarities to (Delta 9) THC, the main psychoactive component in recreational cannabis. These two cannabinoids are molecularly similar, binding to the same CB1 receptors within the body. The difference is that Delta 8 THC is much less potent, still granting the psychoactive "high" gained from recreational cannabis use, but at a much lower and more stable level.
Product Information:
1 gram of Delta 8 Kush indoor hemp flower

Comes in a reusable jar that cuts down on odors

Contains 210 mg/g CBD

Contains 160 mg/g △8 THC

Contains less than 0.3% THC

Organically grown

Lab tested, and sealed fresh
Caution:
With any product containing Delta 8 THC, we strongly advise that you use with caution especially when you are unfamiliar with your reaction to psychoactive substances, or trying Delta 8 THC products for the first time. Start by testing small amounts to see your reaction to the compound, and wait for 30 minutes before increasing your dose. Delta 8 THC is not as powerful in effect as the psychoactive component of recreational off-market weed, Delta 9 THC, but it does create a mild psychotropic effect, and this should be taken into consideration before consumption.
Lab test results are available via a QR Code on the jar label. Please check out our FAQ page for more information on our products, shipping, and company policies.
You must be of legal smoking age to purchase this product. Your purchase validates your agreement to the Sono Terms of Service. This product in no way guarantees any specific outcome. Any information related to herbal properties references historical, traditional, mythical, or ceremonial usages in folk medicine or spiritual practices. This information is provided for entertainment purposes only. 
This product hasn't been evaluated by the FDA. It is not intended to diagnose, cure or prevent any disease. Consult your doctor before use. Do not use if you are pregnant or nursing. Smoking anything may be hazardous to your health.
---