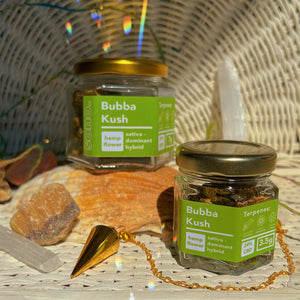 Hemp Flower | Bubba Kush | Sativa-Dominant Hybrid | 3.5g / 7g
Regular price
$26.88
Sale price
$27.77
Unit price
per
Bubba Kush is premium hemp flower, earning its name from the dank aroma of kush and earth you'll smell when you open the jar. Weighing in at 24% CBD/mg, this is a powerful unwinding tool, a sativa-leaning hybrid that gives you the same benefits as full-spectrum cannabis without the psychoactive effects. The flower buds are medium-sized and closely trimmed, packed in a reusable jar. Grind the CBD weed flower as finely as you like, mixing with herbs if you prefer, and smoke it in a joint, a blunt, a bowl, whatever feels right to you. Hemp flower is nature's gift to us and it was made to be shared.

Read more about the full benefits of CBD, and the plant that makes it in our CBD blog post.
 
Product Information:
Medium - approximately 3.5 grams in a 1.5 oz reusable hexagon jar

Large - approximately 7 grams in a 4 oz reusable hexagon jar 

18% CBD

0.3% total THC or less 

Contains the terpenes caryophylllene, linalool, and limonene to give it a sweet, hoppy scent

Reusable and recyclable packaging 

Handmade and eco-friendly
To read certificates of analysis for the hemp & CBD we use in our products, click here.
Please check out our FAQ page for more information on our products, and our company policies.
You must be of legal smoking age to purchase this product. Your purchase validates your agreement to the Sono Terms of Service. This product in no way guarantees any specific outcome. Any information related to herbal properties references historical, traditional, mythical, or ceremonial usages in folk medicine or spiritual practices. This information is provided for entertainment purposes only. 
This product hasn't been evaluated by the FDA. It is not intended to diagnose, cure or prevent any disease. Consult your doctor before use. Do not use if you are pregnant or nursing. Smoking anything may be hazardous to your health.
---