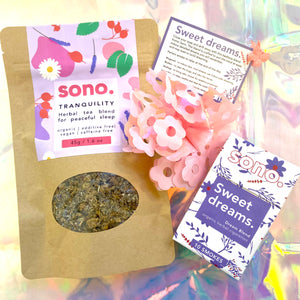 Sleep Bundle | Smokes & Tea
Regular price
$25.95
Sale price
$37.90
Unit price
per
Spoil yourself or a loved one with an exclusive bundle from Sono!! This bundle includes items that are aimed to aid with trouble falling asleep, restless sleep, nightmares, etc. This is the perfect gift for someone who is looking to improve their nightly routine by easing into sleep and resting peacefully until the morning.
Included:
Sweet Dreams (Dream Blend) - pack of 10 herbal smokes. Read more about the blend here.
Tranquility Herbal Tea - blend for easy sleep and pleasant dreams with lavender, mint and chamomile. Read more about the tea here.
You must be of legal smoking age to purchase this product. Your purchase validates your agreement to the Sono Terms of Service. This product in no way guarantees any specific outcome. Any information related to herbal properties references historical, traditional, mythical, or ceremonial usages in folk medicine or spiritual practices. This information is provided for entertainment purposes only. 
This product hasn't been evaluated by the FDA. It is not intended to diagnose, cure or prevent any disease. Consult your doctor before use. Do not use if you are pregnant or nursing. Smoking anything may be hazardous to your health. 
---