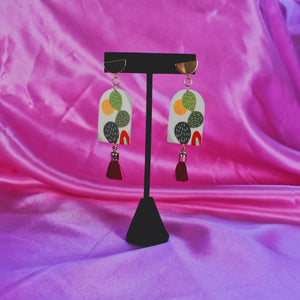 New Beginnings - Handmade Earrings
Regular price
$16.66
Sale price
$28.88
Unit price
per
Materials: gold plated brass, silk tassel, resin. nickel free. 
This limited edition earring line has only 3 pairs of a kind made. During my jewelry making process, as I do in any type of artistic expression, I try to process the complexity of human emotion and create something that has a greater meaning beyond our ego and self. Themes of childhood, nature and abstraction come naturally to me for that reason - things that are beautiful at a first glance, but often full of hidden meanings. 
As I was creating this line I reflected on the themes of love and loss, transformation and new beginnings. I aimed to create pieces that are not only aesthetically pleasing but feel like wearable art and a protection charm. A call for a more peaceful tomorrow, a tiny canvas that ties your eccentric outfit together, no matter who you are. A pair of earrings. 
---